Why should I become certified?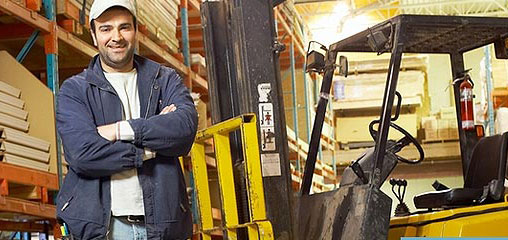 To legally operate a forklift (or other powered industrial truck), you must first be certified. You, as an individual, can be fined for not complying with OSHA regulations. Of course, you may be interested in being certified so that you can get a job. Already having your certification will give you a definite advantage over those who are not certified when looking for employment.
In some cases, employers require certification before you can even apply for a job. The bottom line is, once you have completed your certification, you will have the knowledge and confidence you need to work safely and competently on the job.
I'm not sure if I need a certification, I only drive a forklift sometimes to help out.
OSHA law requires ALL employees that drive a forklift at any time to have passed certification training.
How do I get certified?
Register for one of the classes at our Anaheim location. This facility is conveniently located to provide access to students in Orange County, Los Angeles and the Riverside areas. Our instructors lead you through the entire process and you will have the unique opportunity to gain valuable experience and skills on one of our forklifts. Start the process today and gain the knowledge you need to move your career in the right direction!
How long is the course?
You should be able to complete the course in three to four hours.
How do I know this is a legitimate OSHA certification?
A-1 Forklift Certification commits to your satisfaction. If there is ever a question regarding your certification, please contact us immediately and we will provide prompt attention to resolve your individual situation.
How long is the certification good for?
Our certifications are valid for three years.
Do I need to take a driving test after I complete the online course?
You will NOT have to take a driving test at the DMV for this certification. The exercises that your trainer uses will give you the opportunity to sufficiently master safe forklift operation.
What types of vehicles are covered by this certification?
In general, any truck used to carry, push, pull, lift, stack or tier materials; this includes both rider trucks and those controlled by a walking operator. Some of the types of Powered Industrial Trucks covered in your training include:
Forklift trucks
Motorized hand trucks
Rider trucks
Mallet trucks
Equipment used for over-road hauling and/or earth moving is not covered.
How much does it cost?
The total cost is $120 for both classroom instruction and hands-on training on our forklift. This includes your 3-year certification or $149 for a three-year certification and wallet card.
What if I move to a different state, will I have to complete the training all over again?
No, your certification is valid in all of the United States and Canada.
What if I lose my wallet card?
We can reissue a card for $3.99. Simply click on the link below. You will need to enter your name and current mailing address; your new card will be mailed that same day. Request a new wallet card.
How old do I have to be to become certified?
You must be at least 18 years old to be certified.
Do I need a valid driver's license to become certified?
A driver's license is not required for certification, but you should be confident in your ability to safely operate a motor vehicle and have driving experience.
What forms of payment do you accept?
We accept all major credit cards.
Hands-on training offers options for both the beginning forklift student and expert operator to complete their certification in a few hours and walk away with their certificate and operator card - in hand - on the very same day. This complete training is offered at our Anaheim facility. We are conveniently located to provide forklift training in Anaheim, Los Angeles, other parts of Orange County and in Riverside. Participants are taught the basics of forklift safety and operation, followed by a unique opportunity to use one of our forklifts to get the experience and skills necessary to improve your career options.
Our knowledgeable instructors have established a program that accommodates all learning styles, making the process not only easy, but FUN! Contact us.
Based in Anaheim, California, A-1 Forklift Certification provides high-quality online forklift certification, on-site courses, hands-on training, aerial lift training and train-the-trainer courses. Our team has more than 30 years' experience in forklift operation and warehouse management. Earn a better living. Start a new career. Ensure optimal workplace safety. Let us help you to comply with OSHA regulations and get certified. Shop now.
We offer our online training and certification in all 50 States.
Training and certification available in: AK,Alaska, AL,Alabama, AR,Arkansas, AZ,Arizona, CA,California, CO,Colorado, CT,Connecticut, DC,District of Columbia, DE,Delaware, FL,Florida, GA,Georgia, HI,Hawaii, IA,Iowa, ID,Idaho, IL,Illinois, IN,Indiana, KS,Kansas, KY,Kentucky, LA,Louisiana, MA,Massachusetts, MD,Maryland, ME,Maine, MI,Michigan, MN,Minnesota, MO,Missouri, MS,Mississippi, MT,Montana, NC,North Carolina, ND,North Dakota, NE,Nebraska, NH,New Hampshire, NJ,New Jersey, NM,New Mexico, NV,Nevada, NY,New York, OH,Ohio, OK,Oklahoma, OR,Oregon, PA,Pennsylvania, RI,Rhode Island, SC,South Carolina, SD,South Dakota, TN,Tennessee, TX,Texas, UT,Utah, VA,Virginia, VT,Vermont, WA,Washington, WI,Wisconsin, WV,West Virginia, WY,Wyoming
A-1 Forklift Certification Home | About | Online Forklift Certification | Hands-On Training | Train the Trainer | Onsite Forklift Training | Aerial Lift Training | Fire Prevention Training | Privacy Policy | Terms of Service | Refund Policy | Contact Us
Copyright 2023 . A-1 Forklift Certification. All rights reserved. Website by M5 Consultants.