Seeking Online Forklift Certifications so you can earn a better living as a forklift operator or a forklift trainer?
• Quick: Online forklift certification and training can be completed faster and more efficiently!
Get your Forklift Operator Certificate in 45 minutes!
• User Friendly: Learn at your own pace from anywhere (with high internet connectivity) from your Cell Phone, Laptop, Computer or iPad
• Compliant: Our online forklift certification and training meets all OSHA Standards for Forklift's, MEWP (aerial equipment)for all Forklift Classes I through VII and MEWP Type 1,2 & 3 Groups A,B. We also, have an online course to Train and Certify your Trainer.
• Retesting: If you don't pass the test on the first try, retake it as many times as need at no additional cost.
Need to train your staff so that they stay safe on the job and comply with OSHA requirements?
A-1 Forklift Certification has more than 30 combined years' experience in warehouse management, training and forklift operation. Based in Anaheim, California, we offer a variety of courses to businesses and individuals.
A-1 Forklift Certification will conduct hands-on OSHA-compliant forklift training at your business and customize our courses to suit your company's needs and regulations. We train groups of any size of all levels of experience, from the beginner forklift operator to the advanced.
A-1 Forklift Certification provides onsite forklift training to businesses throughout Southern California including Los Angeles, Riverside, San Bernardino and Orange counties.
Learn from fun instructors who won't bore you or your staff! Receive expert training on all relevant Federal and State Safety Standards and Regulations with hands on OSHA compliant forklift training.
All students who take our hands-on certification courses can work toward receiving their Forklift Operator Card and receive their Forklift Operator Certificate the same day!
Our Train the Trainer package comes with all of the necessary materials to help you conduct your own in-house forklift training courses.
If you're an individual living in another part of the U.S., we offer affordable, trusted Online Forklift Certifications and training. Our process is simple. Work at your own pace, print out your certificate and receive your Forklift Operator Cards, including Aerial Boom Lift Authorization, Scissor Lift Authorization, Forklift License, and more via mail within three to five business days.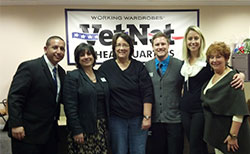 A-1 Forklift Certification owner and managing director Donna Fauscette (center) on a tour of Working Wardrobes. She is pictured with staff of Working Wardrobes including its founder Jerri Rosen (far right). A-1 Forklift is a proud supporter of Working Wardrobes offering discounts to those who are a part of their program. Learn about our Working Wardrobes, VetNet program »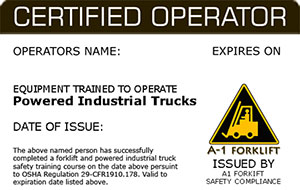 Certified! Many people seeking employment have no idea how powerful this word is. But when you're a certified forklift operator, you'd be amazed by how many doors can open for you.
At A-1 Forklift Certification, we help you take the next step in your career and increase your chances of gaining job stability. While we can help you to get the training and certification you need to advance in the workplace, what you also need is dedication, an excellent attitude, a strong work ethic and follow through.
If you take our online forklift certification course, you can work at your own pace. Our Train the Trainer course will help you to embark on entirely new career path as a leader in the field. Our hands-on courses help you to get certified the same day. Are you local to the Anaheim area? If so, we can even put you in touch with hiring agencies who'll help you seek employment.
Looking for onsite forklift certification in Los Angeles, Riverside, San Bernardino and Orange counties? A-1 Forklift is a total solutions provider of forklift training throughout Southern California. Contact us today. We will come to you.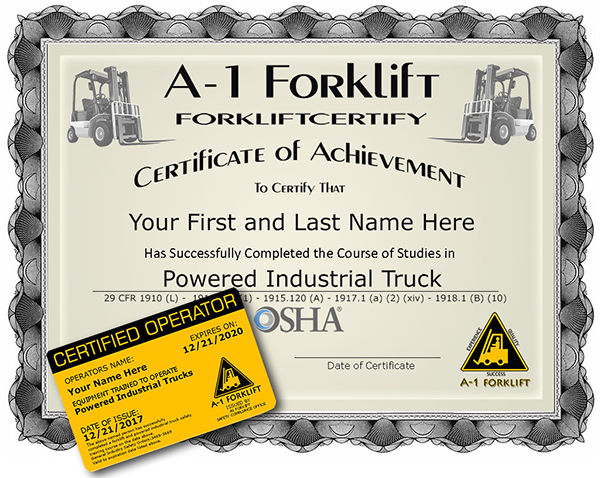 Earn a better living. Start a new career. Get started with A-1 Forklift Certification today.